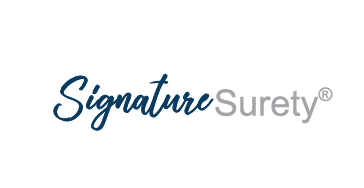 SignatureSurety® is a fast and efficient way to submit a Contract Surety bond request. All it takes is the applicant's signature - just once!
No additional underwriting information is required beyond what is requested in the simple Application & Agreement of Indemnity form. You will only need to complete this form one time and then simply use the short Bond Request form for any bond need that may arise after that.
SignatureSurety is available to all Mid-Continent agencies that are contracted for Surety. This sleek and easy solution is a source of contract surety credit (Bid/Performance/Payment/Maintenance/Bonds) for construction projects of $500,000 or less and an aggregate credit line up to $750,000.
Underwriting Considerations
Must satisfy minimum "risk score" requirements
Applicant should be a current commercial insurance customer of your Agency
A minimum of three years of continuous business operations
Personal Indemnity of principal owners and spouses is required
Exclusions
SignatureSurety is intended for conventional classes of construction ("sticks and bricks") and does not include risks like those listed here.
Non-contract bonds (Court, Fiduciary,
License & Permit, Miscellaneous, etc.)
Completion bonds (Subdivision,
Site Improvement, etc.)
Multi-year contracts
Service contracts
Design/build contracts
Maintenance bond obligations of more than one year
Environmental/hazardous materials contracts
Residential construction contracts
If you have questions about eligibility, please contact your Mid-Continent surety underwriter.

Bond limit depends on each specific situation and cannot be determined until underwriting has been completed. Bond payment is subject to the terms of the bond. Bonds are underwritten by Mid-Continent Casualty Company, which holds licenses for surety in all states except AK, CA, CT, DE, DC, HI, ME, MA, NV, NH, NJ, NY, PA, RI, VT, WV, and WI and Oklahoma Surety Company, which holds licenses for surety in AR, KS, LA, OK, TX and OH. This information is intended for use by licensed insurance producers only.© 2019 Mid-Continent Casualty Company. All rights reserved. 3715-MCG-1 (3/19)